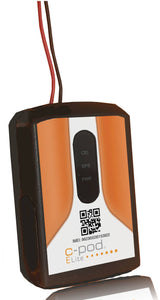 The C-pod ELite is a powerful GPS tracking device that is always online. This is our smalles tracker which makes it easy to hide, and it is perfect for tracking an outboard engine, a jet ski or any other valuable equipment.
1 year subscription is included. 
Download Product Catalog here.
General
The device is very easy to activate and manage. Download the smartphone application on your smartphone or tablet, scan the QR-code, add your alarm recipients and install the device.

The C-pod ELite is powered by the vehicle's battery but also equiped with a backup battery. The device continously updates its position and if the device is moved outside a pre set area, an alarm is sent to an unlimited number of alarm receivers.

An alarm is sent via push notification, SMS and / or e-mail to all alarm receivers. C-pod ELite has a built-in SIM card with global coverage.


Features
C-pod ELite operates globally and communicate via our servers with GPRS and SMS over the GSM network. The application shows the exact location of the equipment via the GPS. The C-pod ELite features:

Geofencing guards your equipment's position

Warnings and alarms are sent by push notification, text messages (SMS) and/or e-mail.

Unlimited recipients of alarms and warnings.

Waterproof (IPX6).

Sends a warning if the internal battery is below 20% capacity.

Controlled via your mobile phone or tablet.

Worldwide service.
 
Technical Spec. 
Dimensions: 70 mm x 46 mm x 17,5 mm

Weight: 62g

GSM quad-band (850, 900, 1800 and 1900 MHz)

GPS: 50-channel GPS receiver.

Positioning accuracy: <2.5m

Waterproof: IPX6

Working temperature: -30 ° C ~ + 80 ° C

Continuous reporting every 10 minutes in alarm mode

Battery backup time in alarm mode: ~ 90 hour battery backup (reporting every 10 minutes).

CE & FCC approved