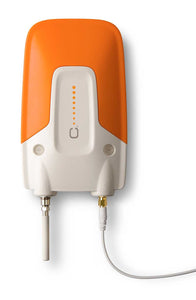 The C-pod Base package is the start kit that includes everything that is nedeed to install the C-pod main unit.
Included in the box:
– C-pod main unit
– Fastener for the main unit
– GPS antenna
– Cellular (GSM) network antenna
– Magnetic intrusion sensor
– Power cable
– Activation button
– Hook-and-loop fastener for the GPS antenna
– Manual
Download Product Catalog here.


General
The system lets you survey a number of functions onboard your boat in an other continent, from your computer at home, your smart phone or from a reading pad. The system permits up to 10 different alarm receivers to get alerts by email or text message. The communication between you and your boat, are routed over our central servers which gives us the possibility to transfer information to the Police or Coast guard around the world.

This enables you to monitor if your boat is being moved, intrusion or break-ins, if the boat´s batteries are losing power, temperature on board, fire or smoke. You can also follow your boats positions around the world, regardless if you are on board or not. A great feature for boats that are chartered. In addition to these functions you can activate (or deactivate) electronic equipment onboard your boat.
C-pod Features

Geofence alarm
The C-pod continuously monitors the boat's position through the built-in GPS and sends an alarm if it moves more than 200m.

Sensor alarms
Add up to 12 sensors to detect intrusion, water level, smoke or other hazards onboard

Battery disconnect alarm
If the external power is cut the C-pod sends an alarm before converting to the internal back-up battery

Battery level warning
The user can select a battery voltage threshold to get a warning when it is time to charge the boat's batteries or to detect when shorepower is not available

Communication warning
The system actively monitors each C-pod unit every hour. If the unit goes offline a notification is sent to the user. The user is thus assured that the system is fully operational

Complete server back-end solution
C-pod rely on our servers which will send you SMS alarm continuously until you disarm it. You will never miss an alarm!
Technical specifications
Dimensions (WxHxD): 180x110x40mm

Weight: 299g

Supply voltage:10 – 30V DC

GSM quadband modem

2000mAh Li-Ion backup battery

2 sensor loops with up to 6 daisy-chained sensors each – 1 output for siren or relay (remote switching)

Average power consumption 25 – 30 mA

Operating temperature -15° to 55°C / 5° to 131°F

CE & FCC approved

(850, 900, 1800 and 1900 MHz)

12 Channel GPS, -152 dBM sensitivity
Easy to use
Easy to install
C-pod comes with a strong separate bracket that you can easily attach / remove the device to through a simple "click" function. Power up the C-pod and attach the GPS antenna in an appropriate place, now you are just a text message from activating your C-pod. It couldn't be easier!

C-pod base package always comes with a magnetic intrusion sensor and all accessories are "plug and play" ready.

Monitor your boat from home
C-pod doesn't only let you monitor your boat by presenting information about voltage, knots, heading, map positioning, etc but also enables you to configure and manage it. You can disconnect sensors, turn on/off refrigerators, air condition, bilge pump, etc. In short, manage your boat from home!

Fleet interface for multiple vessel monitoring
C Security Systems offers a fleet interface, free of charge, for both professionals and non- professionals. This feature enables you an overview of all vessels in one place.

Easy to add and manage alarm receipeients from your web portal
The system permits up to 10 different alarm receivers to get alerts by email or text message.
Proven technology
Complete server back-end solution
Few GSM-based boat alarms are server-based and rely instead on direct SMS notifications. This is a risk due to the fact that SMS has one of the lowest priorities in the GSM network and operators does not guarantee SMS delivery. C Security Systems has acknowledged this risk and rely instead on our servers which will send you SMS continuously until you disarm your alarm. You will never miss an alarm!

Custom designed for marine use
C-pod's components has been thoroughly selected and tested to resist humidity, water, salt, extreme temperature and corrosive environments. C-pod has been installed and proven in boats in over 50 countries.

Surveillance
C-pod communicates with the server continuously and store your boats status automatically. If four communication attempts fails you will be notified immediately, this feature makes any attempt of using GSM jammers useless and you will always know if your boat is not under surveillance.

FCC approved for the US
C-pod has been approved by the Federal Communications Commission in the United States of America.